Overview
The Trafalgar-Class Submarine (further referred to as TCS) is the second submarine so far.
Exterior

It is mainly black but has 4 red stripes on the back, also on the top there is a yellow and black airlock at the front.

The sides are black with almost nothing to see, except a tall fin and the stern stabilizers.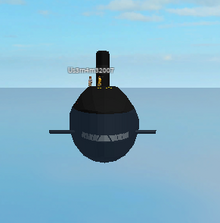 From the front of the TCS, you can see grey squares, mounted in front of the SONAR, the hydroplanes, and the fin.
Trivia